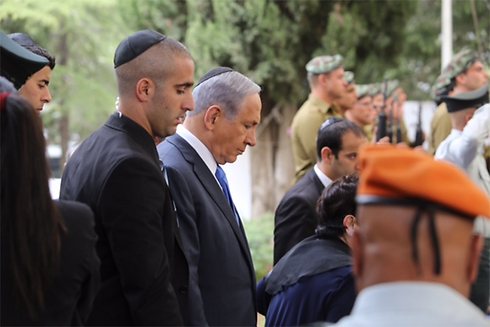 Netanyahu at Mt. Herzl memorial ceremony
Memorial Day ceremony in Tel Avi
****************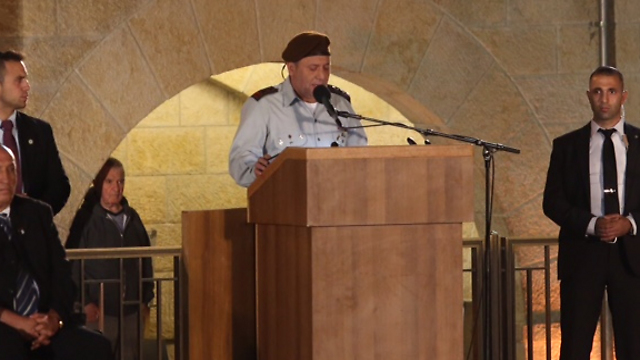 IDF Chief of Staff Lt.-Gen. Gadi Eizenkot at official memorial
*****************
Gilad Morag
| | |
| --- | --- |
| Latest Update: | 04.21.15, 21:16 / News |

Israel marked Memorial Day on Tuesday, with a series of ceremonies across the country to honor its fallen soldiers and victims of terror.
The day, officially known as Day of Remembrance for the Fallen Soldiers of Israel and Victims of Terrorism, lasts for the 24 hours before Independence Day, with the sadness of the day giving way to the joy of celebrating the establishment of the state.
Prime Minister Benjamin Netanyahu and Knesset Speaker Yuli Edelstein attended a traditional ceremony at Yad LaBanim, the association for families of fallen soldiers, in Jerusalem.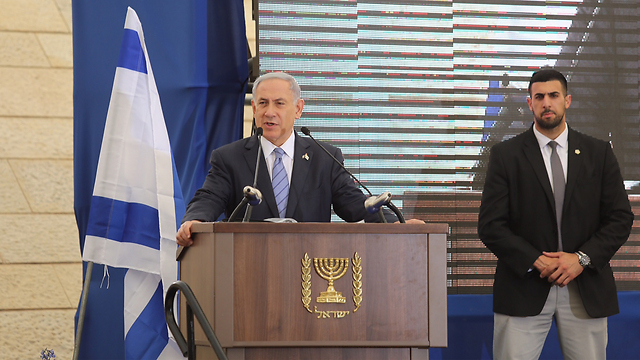 Netanyahu at ceremony
Prime Minister Benjamin Netanyahu shared his personal story of loss with the bereaved families. "I know your pain and I feel your longing. Thirty-nine years after my brother fell, the grief has not subsided. The grief did not subside in my parents - may they rest in peace - until their final day." Netanyahu's older brother Yonatan was the only Israeli killed when he led a successful commando operation that freed over 100 hostages captured by hijackers in 1976.
Turning to the bereaved families, he added: "It does not let up for Mazel and Eli Gidoni; no, it does not subside for you. And on this day, they join in our grief. A proud nation bows its head and its flag today in recognition of their fallen loves ones - Jews, Christians, Muslims, Druze, and Circassians."
At 8 pm, a one-minute siren sounded nationwide and immediately afterwards, the annual Memorial Day candle lighting ceremony will be held at the Western Wall in Jerusalem attended by President Rivlin and the IDF Chief of Staff Lieutenant General Gadi Eisenkot.
"The struggle for our existence is still not a matter of choice," said Rivlin. "Our obligation, to ourselves, our children and grandchildren, is to be sure to do everything in our power to prevent the next war.
"We are obligated to continue to live, for the sake of our loved ones who are lost, and for our children who remain."
As many as 1.5 million people visited one of Israel's 52 military cemeteries Tuesday evening and Wednesday.
At 9 pm on Tuesday, the "Songs in Their Memory" memorial event will be held at the Knesset square attended by President Reuven Rivlin, the prime minister, Defense Minister Moshe Ya'alon,and Police Commissioner Yohanan Danino.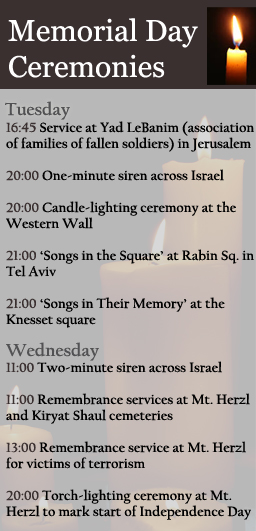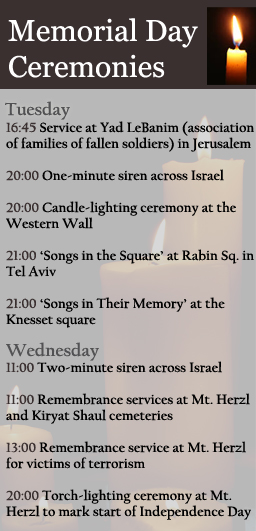 On Wednesday at 11 am an additional two-minute sire
On Wednesday at 11 am an additional two-minute siren will be sounded and another official memorial service for the fallen will be held at Mt. Herzl together with the prime minister and IDF chief of staff. At the same time, the defense minister will lead the ceremony at Tel Aviv's Kiryat Shaul cemetery.
As every year, thousands of people are expected to attend Kiryat Shaul ceremony. Over the past month, the Defense Ministry's Families and Commemoration Department has been making preparations for the ceremony, which involves complex logistics and requires many rehearsals.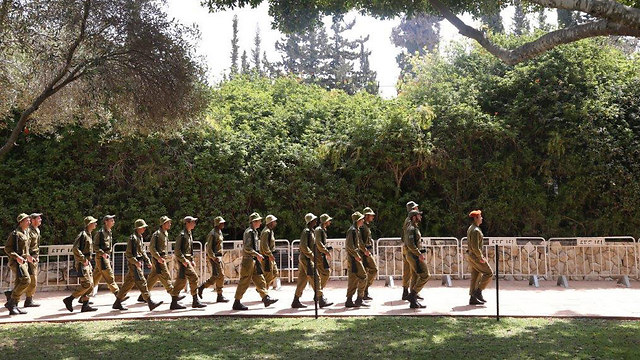 Preparations at Kiryat Shaul Cemetery
Hundreds of buses and shuttles will be made available to the public at Mt. Herzl and to other central cermonies, and 450,000 water bottles will be handed out to the bereaved families and the public at the cemeteries.
The state also distributed some 120,000 flower reefs to be placed on the fallen's graves, and 20,000 chairs will be placed throughout military cemeteries for bereaved parents.
The Kiryat Shaul cemetery manager Lior Yamin elaborated on the many preparations made ahead of the Memorial Day events. "The logistic preparations for the ceremony begin with the chairs that we place next to every grave and other complex logistics," he said.
"We set up roadblocks and parking lots that spread across large areas. The preparations take more than a month, including preliminary meetings with all the relevant officials participating in the ceremony. We have been doing this for many years. We have the knowledge and experience to do it without any problems, and that is our goal for this year as well."
Among those attending the ceremony are the defense minister, representatives of eight local authorities and many bereaved families. Last year, close to 60,000 people participated in the ceremony.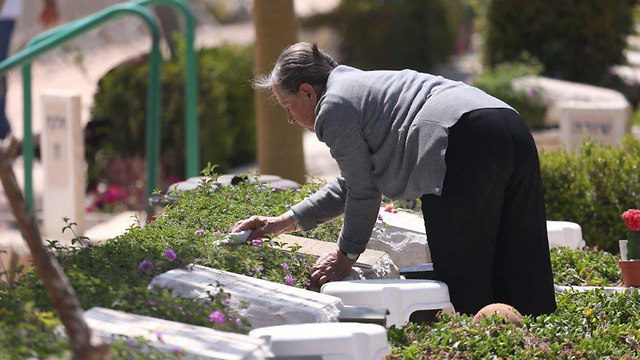 "The entire nation is invited to the ceremony," Yamin said. "Thousands of people come and the parking lots get filled to the brim; the police gives us assistance." Shuttles are expected to pick up the families from the parking lots.
As of April 14 2015, Israel had lost some 23,320 of its sons and daughters, 116 of them in the last year alone – 67 of those soldiers killed during Operation Protective Edge. Some 35 wounded veterans passed away this year as a result of their injuries, and were thus also recognized as fallen soldiers, the Defense Ministry said
.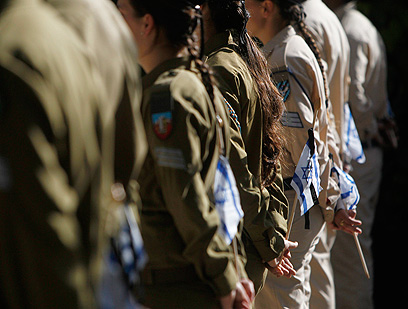 More than just remembering the fallen, the day also gives Israelis a chance to show their respect for the 'family of bereaved' – an umbrella term for all those families who lost their loved ones to terror or war – currently numbering 9,753 bereaved parents, 4,958 widows and 2,049 orphans (under 30); together they number 16,760.
In the past year, as a result of summer war in Gaza, the 67 fallen soldiers added 154 bereaved parents to the 'family'; 26 children were orphaned as a result of Operation Protective Edge; including two who were born after their fathers fel